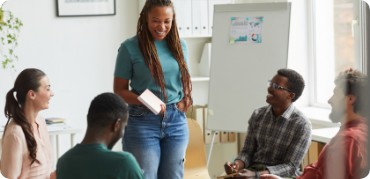 This highly effective, evidence-based treatment is designed to help people learn to live in the moment, develop healthy ways to cope with stress, regulate emotions, and improve relationships with others. DBT helps people get "unstuck" from painful thoughts, emotions, and behaviors. Many people who commit to a 12-month DBT treatment program no longer need therapy after treatment is complete.
It is one of the leading treatments for:
Anxiety
Depression
PTSD
Substance Use Disorders
Eating Disorders
Borderline Personality Disorder
High-risk behaviors such as suicide and self-injurious behaviors
Solvista Health is an industry leader with an expert team of intensively trained DBT clinicians. Comprehensive services are available to adults and adolescents which include:
DBT individual therapy
DBT skills training groups
Skills coaching (the 4 skills sets in DBT include: Mindfulness, Distress Tolerance, Interpersonal Effectiveness, and Emotion Regulation)
Talk with your clinician about using dialectical
behavioral therapy in your treatment plan.