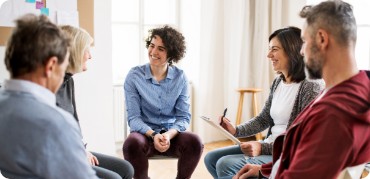 Solvista Health offers a full range of substance use disorder (SUD) Treatment that is comprehensive, caring and confidential. Our therapists are credentialed and certified in SUD treatment that includes all diagnoses.
Solvista is committed to client care and providing cutting edge training to our providers so that the people we serve can receive an experience that is personal, caring and effective in helping achieve their health goals. Addiction doesn't have to be a person's defining experience in life. There are real solutions to solving and creating new definitions for the journey of life. A life of recovery is available, and our team is here to help.
Outpatient Services
Solvista Health is a drug and alcohol rehabilitation provider that focuses on outpatient mental health and substance use disorder treatment. The primary goal of our treatment is to help individuals achieve a substance-free life. We work with people to help them maximize a healthy lifestyle and prevent or reduce the frequency and severity of relapse.
Medication Assisted Treatment (MAT)
Solvista Health offers medication options to assist individuals struggling with substance abuse. Medication Assisted Treatment (MAT) is offered through the Solvista Health Primary Medical Clinic. Please call for more information or to schedule an appointment, 719-275-2351.
Free Naloxone (Narcan) Training
Solvista Health provides a Naloxone (Narcan) Education group open to any community member. This group will give participants the education to administer Naloxone (Narcan) to reverse opioid overdose in an emergency. Participants will be able to receive a Narcan kit upon completion of the training. Preregistration is not required. The education group is held every Friday at 1:00 PM. Call Solvista to receive the link for this virtual training, 719-275-2351.
Call now to make your appointment for care: