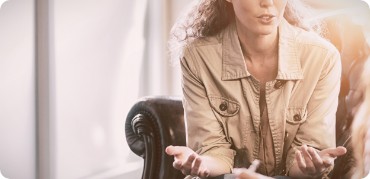 Solvista offers a wide range of counseling and therapy options designed to help individuals and families reach their whole health goals. Services include individual, family and group therapy from a qualified clinician and are often complemented by support services like case management, supported employment and peer services.
Our care teams work together with individuals to determine the best approach to meet their individual treatment goals.
Our highly qualified behavioral health providers include:
Licensed Clinical Social Workers
Licensed Professional Counselors
Licensed Marriage and Family Therapists
Addiction Counselors
Psychiatrists
Advanced Practice Nurses
Peer Specialists
Clinical Care Managers
Employment Specialists
Care Coordinators
Dialectical Behavior Therapy (DBT)
This highly effective, evidence-based treatment is designed to help people learn to live in the moment, develop health ways to cope with stress, regulate emotions and improve relationships.
Call now to make your appointment for care: