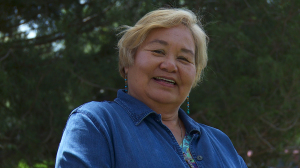 Spending time with her grandsons is her favorite activity. But it wasn't long ago that Clara Abercrombie felt there was absolutely no hope for her life. With her marriage ending and a life-long history of ignoring symptoms of depression, Clara was in crisis.
Clara grew up in a small town in northern Alaska. A childhood history of sexual abuse by family members set the course for Clara's struggle with depression. "Around 10 or 11 years old I can remember noticing some signs in my thinking and behavior that didn't seem right but it was brushed under the rug," said Clara. The stigma attached to mental illness made her and her family avoid any acknowledgment that she might need mental health treatment. She attempted suicide for the first time at 13 years old. The next 40 years would be a slow process of deeper and darker episodes of depression.
Five years ago she found herself in the emergency room and was hospitalized. During that hospitalization, a staff member referred her to Solvista Health for help. Clara had sought help for her depression with a counselor once in her early 30's but did not make progress. "I told myself, I am strong and can do this on my own, but I couldn't," said Clara. Even knowing that she desperately needed help, Clara was reluctant to go.
"Every day I had a dread in my heart," said Clara. "I hated getting up every day." Clara was scared of everything, including meeting new people. "I knew I couldn't go on like that, I had to try to get help." She hoped she would be prescribed a "magic" pill that would take her problems away. However, as she began treatment she realized this was going to take hard work on her part and she had to be committed to stay the course.
Clara's initial treatment plan included individual therapy sessions with a clinician, group therapy sessions and consulting with a psychiatrist for medication. "When I first sat down with my clinician and opened up, she really listened to me," said Clara. "Solvista Health has wonderful staff. They recognize me when I come in for appointments and seemed to pull together and really care."
Dialectical Behavior Therapy (DBT) has been immensely helpful in Clara's recovery. Using the techniques and coping mechanisms taught in DBT, Clara can identify thoughts and behaviors that used to send her spiraling into depression. "Now I use the DBT techniques to re-direct my attention to positive thoughts and activities," said Clara. She is then better able to put into perspective things that would have triggered her in the past toward negative behavioral patterns. "I love the coping skills I have learned from DBT," said Clara.
Group therapy has allowed Clara to meet with other women facing similar struggles that she has faced and discuss those things without being judged or criticized. She no longer blames herself for the past and is determined to not let it define her future.
"It's not all success. You will stumble, but you pick yourself up and keep moving forward," said Clara. "It's hard work but it's worth it. I'm finding relief and joy."
When asked why she would be willing to share her story, Clara expressed her desire to help others struggling with mental illness who are scared to seek help. "If I can help just one person have the courage to seek help, it will be worth it," said Clara. "Seeking help has given me strength and a conviction to move on with my life."
Back To Success Stories