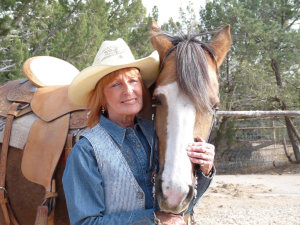 Most of us who think back to our childhood years can recall warm family memories, sleepovers, and achievements woven in with the bumps and bruises that accompany life. But for Harlene Kelley the memories of childhood are a tragic story written with violent scenes, withheld love and a child never measuring up to the expectations of her father.
She vividly remembers violent beatings on a regular basis from her police officer father. Harlene took judo classes as a teen to help defend herself during her father's rages. She spent her life trying to be the boy her father always wanted. Although she excelled in sports, could shoot guns at a young age and fight boys in neighborhood brawls, she never received her father's approval. "I tried to be the toughest and best at everything and it was never good enough," said Harlene. As for her mother, Harlene remembers her sitting in the chair crying on a daily basis.
Harlene married a police officer to escape her home and found herself in another physically abusive situation. They moved to California in 1956 where Harlene got a job as a VIP secretary with Lockheed Martin working for the military. She would be there until retirement, almost 50 years later. Her years at Lockheed were interesting but stressful working in a high security position with high-ranking officials.
Harlene had one child, a daughter born with hydrocephalus and although she was only expected to live a few months, she lived six and a half years. Harlene was never able to bring her daughter home but could only visit her in the hospital. The doctors could never confirm the cause of her daughter's illness so Harlene would not take the chance that another child might also suffer from the same condition.
After eight years with her first husband, Harlene, divorced and eventually married a Navy pilot. Her second marriage ended after six years and she has remained single.
A passion throughout Harlene's life has been training dogs and horses. Upon moving to California, Harlene joined the Los Angeles Mounted Search and Rescue. Her unit was eventually hired by the LAPD to reinforce their mounted patrol. She was involved in many dangerous, violent and life-threatening situations during her days with the LAPD. She served for 21 years in Search and Rescue.
Throughout her life, Harlene felt as if she was witnessing life through a window as a lone observer. She was plagued with panic attacks, night sweats and nightmares. The life of abuse, fear and violence had taken its toll. After 49 years and ten months in Los Angeles, harlene headed out of town and closed the door on her life in California. She had set her hopes on a peaceful life and was gambling that a small town in Colorado would be just the place.
Upon arriving, Harlene was overwhelmed with the vast open spaces and friendly people. "It's like I stepped back in time to this peaceful place and more open space than I had ever experienced in my life," said Harlene. "I can walk down the street and look people in the eye here," she said. "I've never done that before."
Although Harlene had sought help for her mental health issues in California, her doctor had never provided answers but only prescribed medication. Upon settling into her new home, Harlene had a friend who pointed her to Solvista Health. After an evaluation by a clinician, Harlene was diagnosed with Post Traumatic Stress Disorder (PTSD) and depression.
She had no knowledge about her illnesses. She had never received any information about ways to cope with her symptoms outside of medications. At Solvista, Harlene was educated about her illnesses and learned techniques to improve her quality of life. "I received more help at Solvista, in a short period of time, than ever in my life," said Harlene. "Solvista and the superior help available here is the real success story."
Harlene feels that although she was a victim much of her life, she can use those experiences to her advantage and doesn't need to stay a victim. She sees her past experiences as stepping stones to where she is now. She spends much of her time riding her horse and enjoying the fulfilling life she always longed for. "I have so much appreciation for the staff at Solvista," said Harlene. "The care and treatment they gave me, changed my life."
Back To Success Stories