September 28, 2022
Solvista Health is celebrating 60 years of serving Fremont, Chaffee, Custer and Lake Counties!  The local non-profit kicks off their Annual Giving Campaign October 1, through December 31, 2022.
Mental health and substance use needs have grown exponentially in the region over the past four years and Solvista has grown to help meet the demand, increasing the number of individuals it serves annually by more than 96%.  Charitable support is needed now more than ever. It's easy to support members of our community who are struggling with mental health or substance use issues by making a donation at, www.solvistahealth.org.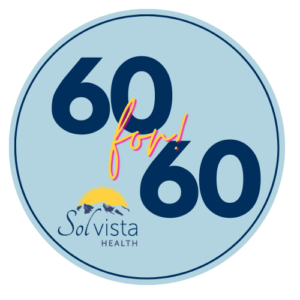 No one is turned away from services at Solvista Health due to an inability to pay.  Charitable support is vital to provide these life-changing services. Substance use recovery; adult, child and family mental health services; 24/7 mobile and walk-in crisis help and so much more are offered through Solvista's eight locations and in the community.
Please consider giving $60, or a gift of any amount, to celebrate Solvista Health's 60 years providing high quality behavioral health care to our local communities.